Wow! My favorite time of year has arrived! Well, almost. 24 more days to go and it's Christmas time once again! Time for family fun, mouthwatering food and PRESENTS! hahaha! Just kidding :) But yes, gifts make me happy. (Note: Hidden meaning--give me presents)
I haven't blogged in one month. I honestly did not notice November pass. It literally flew bye bye. Or maybe I was just too busy with school? Or too eager for December to arrive that I blocked out November and kept my eyes on the last month of the year? Hmm.. Whatever the reason is, it does not change the fact that I am super excited and giddy! Why? COZ IT'S DECEMBER! No more other reasons needed!
I love Christmas. <3 Christmas is LOVE. Other people start feeling Christmas whenever the "-BER" months start, but Christmas never leaves my spirit. I will forever and always be a part of me.
Yes, other people may think that I overreact when it comes to Christmas...but I have a thing for this holiday, you see. Christmas has always been a jolly time for me. The atmosphere is definitely more cheerful! Christmas lights in every inch corner..Christmas songs blowing out of speakers, mostly in malls..Good food. Children in the streets practicing for their Christmas carols...People greeting each other with a smile and a jolly "Merry Christmas!".. what else to you need to be merry?
I'm also thrilled to spend Christmas in Zamboanga this year, 'coz I've been away most of the year so it's gonna be a different experience when I get home. But I most definitely think that it's NOT going to be less any fun.
Also, I am trying to come up with a new "Greeting Image". I started doing this last year. I e-mailed this simple greeting to my friends and family members. I also posted it on my Multiply site and most of my friends' Friendster account (Friendster was SOOOO last year). hahaha!
Here was my Greeting Image from last year. It's nothing big, but I find it cute and very Christmas-y. I did not take the photo or wrote the verse, no credits to me. But I did the editing for the letters, so that's something to be credited for, I guess.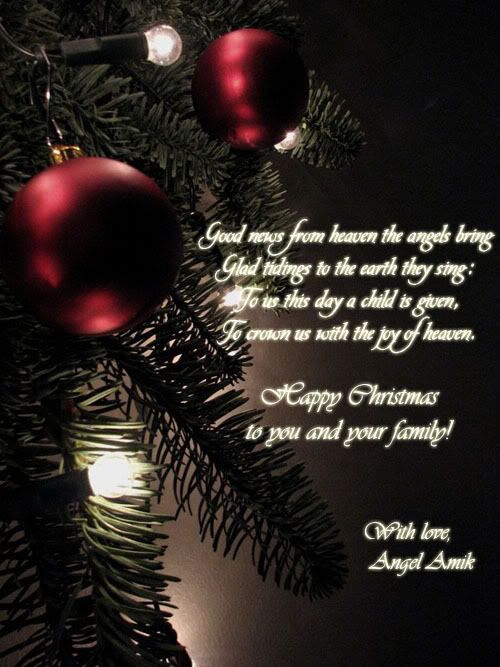 I hope I can come up with another one soon enough! Hello, December! :D